Plasma Clean provide effective infection and odour control solutions for washrooms and other smaller areas prone to smells and odours.
Looking to remove and control foul air smells or strong odours from enclosed spaces such as toilets and washrooms ?
Plasma Clean products destroy airborne infection and odour using a high performance air ioniser. The units leave air fresh, clean and hygienic.
Air in confined spaces can contain not only offensive odours but also volatile organic compounds, infectious and pathogenic micro-organisms including bacteria and spores.
Where there is no ventilation or inadequate airflow, this can lead to a wide range of potential health concerns.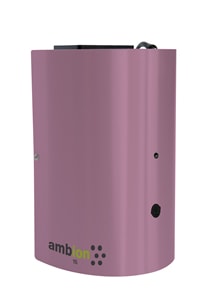 Perfumes may be used to mask the smell but they do not remove the problem.
Plasma Clean's Ambion ionisation technology safely and effectively cleans and ionises the air, removing air borne impurities.
With low maintenance, Ambion 15 units require no consumables or cartridges, just a power source and cleaning of the ionisation head every 3 – 6 months.
The units come in a range of contemporary colours, including stainless steel, and can be mounted on any wall surface at a height near to the source of odour.
The Ambion 25 is available for larger washrooms and waste storage facilities; the Ambion 100 is for larger waste storage and food preservation areas.
If you are looking to remove smells and odours from your washroom facilities, then please contact the Plasma Clean team to discuss your requirements.