In January our Technical team joined with CIBSE North West. Members of CIBSE and other professional bodies are required to maintain their professional competence throughout their careers. CIBSE North West regularly schedules and hosts CPD seminars for its members. Plasma Clean were thrilled to be invited to start the year off with its CIBSE accredited CPD seminar specifically for commercial kitchen ventilation solutions.
Dr David Glover takes a practical approach to grease, odour and smoke control in commercial settings. The seminar takes into account a range of factors including type of cooking, volume flow rate, space available and neighbouring properties.
Fresh from his return to Plasma Clean, Chris Tattersall joined David in presenting the webinar. His feedback from the session, 'It was great to see so many people join us. Regardless of experience there is always something to gain from our CPD sessions. Whether it be understanding how our equipment works or discovering a product you haven't come across before. It's also a good platform to share any difficulties you have experienced with kitchen extract ventilation applications.'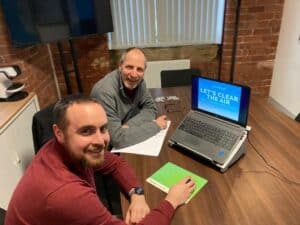 With hundreds of attendees, the seminar was a huge success.  It provoked some great discussions around ongoing grease management strategies and the importance of maintenance.
What is CPD?
Continuing Professional Development (CPD) is a long term commitment to undertake the 'systematic maintenance, improvement and broadening of knowledge and skills'. It is about learning and putting into practice new competences year after year, and investing in your future.
Why is it important?
Keeping Mechanical and Electrical Consultants and contractors up to date with the latest legislation, guidelines and industry equipment types. This aids the improvement and broadening of knowledge. Helping our customers be best placed to give energy saving and budget savvy options to their clients.
Each attendee is provided with a certificate to count towards their annual continued professional development hours.
As the trusted grease, smoke and odour control solution business, a key priority for Plasma Clean is to raise awareness and education across the industry.
An important part is contributing to the level of knowledge on core topics such as guidelines and technical innovation and the importance of solution maintenance. We are proud to lead by example in a scientific, research-led approach and look forward to developing the industry further.
For commercial kitchens:
Grease, odour and smoke from commercial kitchen ventilation is both a fire risk and a nuisance to neighbouring properties. Grease build-up in ductwork requires TR19 Grease cleaning which can be expensive and even impossible when access is restricted.
Our CIBSE Certified CPD reviews the available strategies for grease, odour and smoke control. It covers common legislative & industry guidelines, equipment types, their performance and recommended maintenance regimes.
The presentation refers to case studies covering a range of cooking scenarios, drawing on many years experience, and will detail best practice solutions. There will also be the opportunity for Q&A.
To book a CPD for you and your colleagues contact the team today
[email protected] 0161 870 2325
For the full directory of CIBSE approved CPDs, please see below: