Most commercial kitchen fires are due to poorly maintained kitchen extraction systems of businesses like pubs, cafés, restaurants and hotels. In fact any business that fries or cooks with grease and oil based products is at risk.
But, by installing a suitable grease control system, the risks of fire can be reduced and make for a safer, cleaner, odourless environment for staff, customers and local residents to enjoy.
What causes a duct fire ?
The build-up of grease and fatty deposits not only creates a breeding ground for bacteria and an environmental health hazard but an increased risk of combustion and fire. Grease can build up to a dangerous level inside the ventilation ductwork behind cooker hoods that might appear outwardly clean and if a fire starts on the cooker or in the deep fat fryer it can spread incredibly quickly through grease laden ducts.
Duct fires are notoriously hard to extinguish as they are often inaccessible and quickly spread to other areas resulting in a long and costly recovery, often forcing businesses to close altogether. A simple internet search shows that duct fires happen around the world on the weekly basis…
Can duct fires be avoided ?
Regular duct cleaning is an established approach, but by preventing grease entering the canopy and ductwork in the first place, it is possible to reduce the risk of fire, the number of duct cleans per year and the associated down time that is involved. In some cases the return on investment can be as little as 12 months.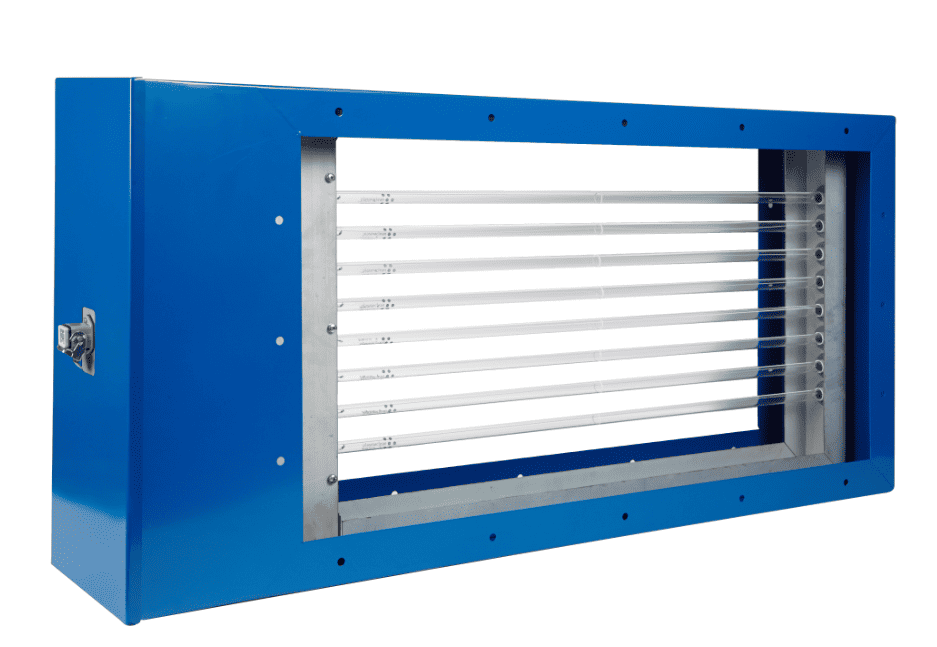 This can be achieved by employing high efficiency grease filters in the canopy combined with electrostatic precipitators and UV treatment. This approach minimises the build-up and volume of grease, reducing the risk of fire, the odour of foul air and creating a cleaner environment for neighbouring properties.

How can I reduce the amount of grease build up?
There are simple solutions available in preventing duct fires and reducing the amount of grease. Some can also have a positive impact on controlling kitchen odours and smoke as well:
Coil filters – provide a first line of defence for kitchen ventilation systems. Working on extraction air before it gets into the canopy, they capture up to 95% of grease and oil particles – a huge improvement on the typical 20-40% achieved by traditional baffle filters.
UV-C filters and ozone – control grease and odour in ducted systems and are an extremely effective and energy efficient way to remove grease and odour from kitchen extraction air.
Combined Electrostatix with UV-C – for grease, smoke and odour control in ducted systems. Combining electrostatic precipitation with UV-C light technology results in the highly efficient removal of grease, odour and smoke in a single small footprint unit.
Eliminair – an 'ecology unit' that offers complete grease, odour and smoke control in ducted systems. Combining high efficiency filtration with state-of-the-art UV-C and ozone technology, Eliminair banishes grease, odour and smoke leaving kitchen extract air fresh and clean.

Do I need to carry out a fire risk assessment ?
Under the Regulatory Reform (Fire Safety) Order 2005, the law requires that extraction systems need to be included when carrying out fire risk assessments with resulting actions taken to minimise the potential fire risk to buildings, occupants and preventing duct fires. Failure to comply with the law by not carrying out adequate cleaning and regular maintenance could not only result in fire and structural damage but also invalidate an insurance policy.
Yet many building owners don't realise that they may be uninsured: most insurance companies insert conditions or warrantees into their policies, which effectively mean they will not pay out in the event of fire if the ductwork has not been adequately cleaned. The cost of having a full risk assessment carried out followed by remedial work and a regular cleaning and inspection programme is minimal compared to the cost of having an uninsured fire, or even worse – the cost of a life.