For most employers, a healthy and happy workforce is a vital component of a productive, successful company.
A study in Environmental Health Perspectives in 2016 directly quantified the impact of indoor environmental quality on cognitive function. By changing levels of ventilation, carbon dioxide and volatile organic compounds. The study measured how the indoor environment affects our health and productivity. On average, cognitive scores were 61% higher in the Green building. They were 101% higher in the Wellness building. Both compared to a conventional building.
The bottom line
Staff costs, including salaries and benefits, account for up to 90% of a business' overheads. So, their productivity, or anything that impacts their ability to be productive, should be a major concern.
Even a 1% increase in staff productivity, or a 1% decrease in staff turnover, can have a noticeable effect on a company's bottom line.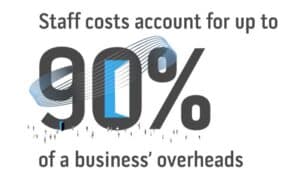 As the benefits and importance of building wellness increase. They are driven by the likes of the Government's Clean Air Strategy 2019. Also by the arrival in the UK of international standards such as WELL and Fitwel. Therefor, the incorporation of wellness into our buildings is no longer just a "nice-to-have".
It's not only a social responsibility, it's an economic one too. Illness costs UK businesses £77 billion each year in lost productivity. This equates to, on average, each employee losing 30.4 days – or six working weeks – of productive time annually.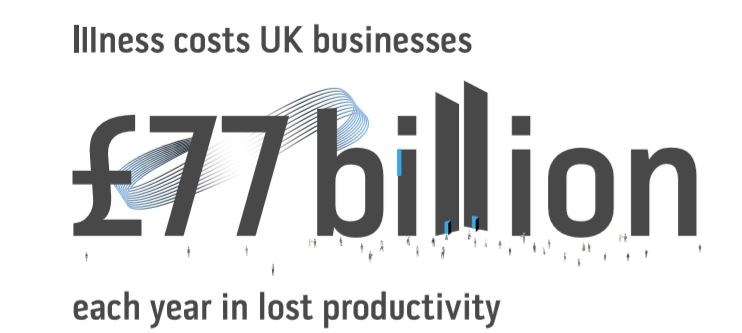 This is due to both absenteeism and more predominantly, 'presenteeism' where employees attend work whilst ill. The costs of which are likely to significantly outweigh the cost of implementing a well building programme and investing in Indoor Air Quality (IAQ).
Indoor Air Quality
In response to these startling statistics, more companies than ever are taking steps to ensure that the physical environment in which their employees work is much healthier.
It's particularly important for those businesses operating in urban areas. In there areas there's evidence that employees working near high-traffic-density roads are exposed to high levels of vehicle pollutants. Despite these emissions being generated outside, they find their way into buildings through the 'so-called' fresh air supply.
By providing better IAQ, businesses can differentiate themselves from the competition. They become employers of choice. As well as standing themselves in good stead to protect against future employee litigation over the health effects of poor IAQ.
Want to read more?
Download our guide on 'How indoor air quality can contribute to a happy, healthy and more productive workforce' HERE.
Contact us if you have any questions or want more information:
T +44 (0)161 870 2325