Wellness is the new 'green'
Think back to the 1990s and early 2000s. This was the beginning of the revolution in green buildings. Today, there's a new revolution afoot. Wellness in buildings is the
new green.
The Green Revolution was all about optimising the performance of the building and
making it as energy-efficient as possible. 'Building wellness' takes into account the human aspect. It aims to create a positive place to live and work. One that makes
people happier, healthier and more productive.
The indoor generation
The quality of air that we breathe is vital for our health, productivity and wellbeing. 90%
of our time is spent indoors and we each consume, on average, 10,800 litres of air each day. The importance of good Indoor Air Quality (IAQ) is clear.

According to one international report, 800,000 people die worldwide every year due to
poor IAQ in their workplace. In the UK, air pollution brings forward some 36,000 deaths
over the same period. And Sick Building Syndrome – which can result in headaches and loss of productivity – even has its own page on the NHS website.
A survey commissioned by the Building Engineering Services Association (BESA) reports that almost 70% of office workers believe poor air quality in their place of work is having a negative effect on their day-today productivity and well-being.
Indoor air quality
Amongst the most common causes of poor IAQ are ventilation systems issues, high CO2
levels, inadequate temperature control, humidity, infection and odour, poor air circulation and insufficient fresh air intake.
As the dangers of air pollution gain greater exposure our focus on it grows. Air pollution
is a top environmental risk to human health in the UK. It is the fourth greatest threat to public health after cancer, heart disease and obesity. One report cites that air pollution causes a cost of £2.7 billion to the UK economy -through its impact on productivity. IAQ is clearly an area that requires careful consideration.
Fortunately, it is becoming a key factor when both assessing a building's wellness and driving employee health initiatives in workplaces internationally – by companies of all sizes, not just the high-end tech giants and corporates.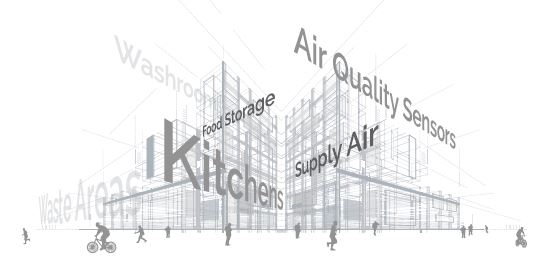 It's a development we're seeing at Plasma Clean. Building wellness and IAQ is being increasingly embedded into corporate wellbeing strategies to deliver a healthier and happier work environment. This results in significant returns on investment for companies, including fewer absences, higher employee retention rates and more engaged and productive workers.
Interesting?
Please download our new IAQ and building wellness guide – Click HERE
If you have any questions or want more information, contact us now:
+44 (0)161 870 2325