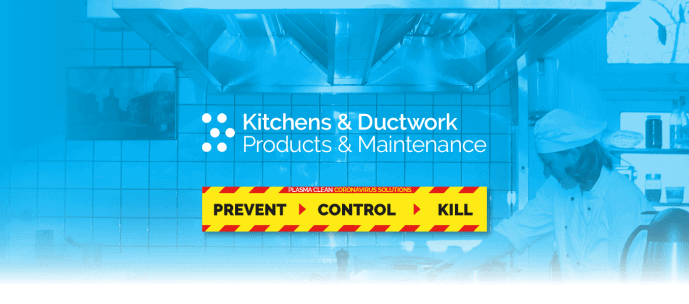 Hello and firstly, well done to everybody out there managing to push on in the face of this adversity. Whilst our social presence has been a touch quieter recently, it has been matched with great progress and development behind the scenes. We have a few projects which we can't wait to share with you, and we'd also love to take this opportunity to express our gratitude to those who have contacted us with your queries, or opened up about any problems within your respective industries. As a nation; it feels like some progress is being made, but we are still very much in the thick of it. Therefore, now is the perfect time for a poignant reminder: We are still very much in this together.
Plasma Clean has been producing Infection Control, UVGI and Odour Control solutions for the Hospitality, Commercial Kitchen and Food Preparation sectors since 2008. With this in mind, we want to reach out to the industry we were built upon, as it embarks on #reopening over the coming months. Legislation and official guidelines may not have been released yet, but going forwards, it is clear that we shall need to ramp up our Hygiene, Health & Safety, Infection Control and Indoor Air Quality standards.
While this may seem like a daunting prospect, there are some relatively basic steps that can be made to get you started. Whether your business started the year with a heavy footfall, or you haven't been able to adapt to a takeout service during the pandemic, there is a good chance that grease has been sat in your canopy hoods for some time, thus needing a service as soon as possible. This goes for your Ventilation Ducting too, as it will have likely had grease congealing in there for months. Not only can these nasty substances prevent units from operating correctly, they are also a great fire hazard. From filters to entire HVAC installs, we work alongside M&E and FSCI consultants, M&E contractors, Environmental Health and Planning Officers, as well as you; the end user, offering modular and custom solutions for each environment and ensuring you are covered.
But what about front of house? Well, if you have seen any of our recent video series, you will know that Plasma Clean now offer a number of standalone, or integrated UVGI products. These can be installed into new developments, or retrofitted, to ensure your seating areas / counters / communal areas / lobbies / shared offices are safely disinfected 24/7. Our UVGI range boasts a 99+% kill rate against micro-organisms such as viruses, bacteria and other harmful microbes that pose a threat to human health. Recent studies of coronaviruses, including the SARS coronavirus, have concluded that SARS-CoV-2 / #Covid19, is highly susceptible to ultraviolet inactivation. This conclusion is based on a wide-ranging study on the effect of UVGI on coronaviruses. In short; Plasma Clean UVGI equipment is designed and specified to ensure that UV-C dosages equal or exceed those required for coronavirus treatment. In layman's terms; our solutions takes the air in your environment, eradicates viruses, then pushes clean, virus-free air back out.
There is a lot of misinformation out there, so as always, we gladly welcome any questions, queries or conundrums that you may be facing. Our engineers are ready to help get you sorted and on track for a safe reopening of the UK's thriving, diverse and celebrated hospitality industry.
Until then, please continue to stay safe and let's push things forward into a post-Covid world.

Warm regards