Looking for fresh smelling air and a DEFRA compliant kitchen?
Whether you're involved in specifying commercial kitchens, installing kitchen equipment, or running a busy restaurant, air quality is a key concern.
As part of our service, our guide helps you exactly with this.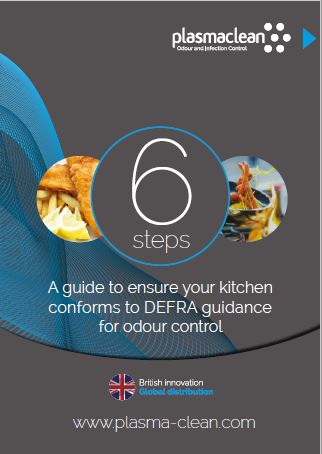 Step one: Site assessment
This first step is all about understanding the mechanics of the kitchen and its operation. To do this, we gather together information on a number of critical factors We also look at the likely sensitivity of the neighbourhood to odour problems, and establish the scale of the operation: How many hours is the kitchen open at a time? How many covers does it typically serve?
Step two: Defining cooking activity
We next look at the type of cooking. Different types of cooking produce different levels of grease, smoke and odour. A fish and chip shop, for example, produces high levels of grease, very high levels of odour, and low levels of smoke. A Gastro-pub cooking steaks on a chargrill, on the other hand, produces high levels of grease, smoke and odour. To be effective, systems have to take these differences into account.
Step three: Choosing the right solution
Assessment complete, we select the combination of solutions from our range that will best keep the kitchen and neighbouring areas grease, smoke and odour free.
Step four: Specifying the solution
Using volume flow rates, we calculate the correct configuration of solutions required for best results and confirm where they should go. Our range is modular, meaning we can plug things together to give different options and strengths. At this point, we can also produce a grease, smoke and odour control strategy to show EHOs and Planning Officers you have an effective plan in place.
Step five: Installation
All products are designed to be easy to install and use. If we are kitting out a brand new kitchen, then installation is quick and straightforward. Ou solutions can also be easily retro-fitted.
Step six: Maintenance
Maintenance requirements vary from solution to solution but are all simple and straightforward. In fact, our carefully-designed and robust products typically need fewer routine service visits than competitor ranges. We'll put together a schedule for you, advise staff what to do, and explain what you'll need us to do.
Contact us and we will send you the 6 steps guide today.
For more information please click here.