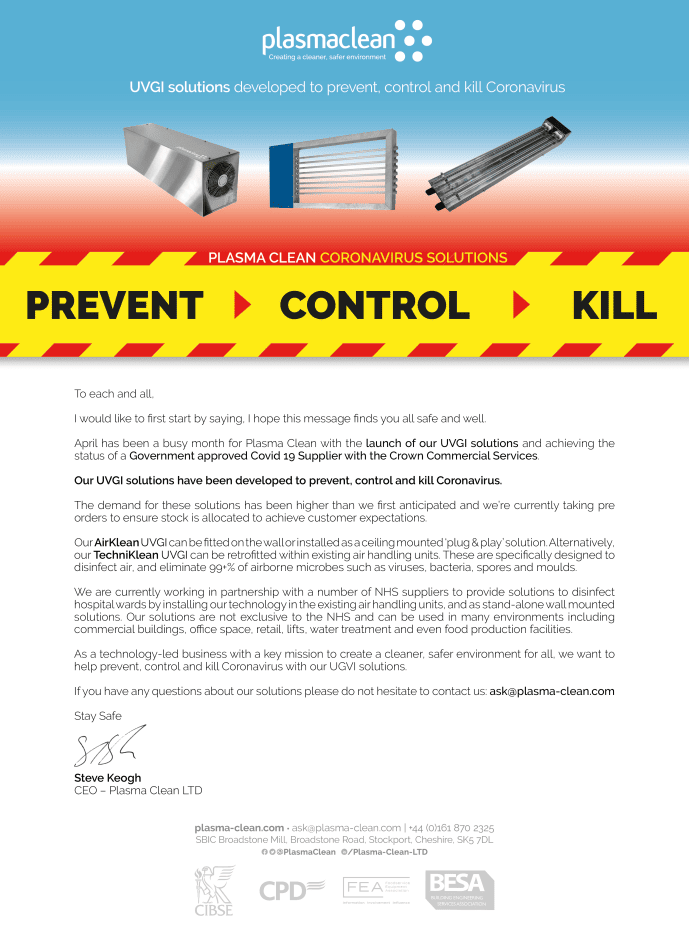 To each and all,
I would like to first start by saying, I hope this message finds you all safe and well.
April has been a busy month for Plasma Clean with the launch of our UVGI solutions and achieving the status of a Government approved Covid-19 Supplier with the Crown Commercial Services.
Our UVGI solutions have been developed to prevent, control and kill Coronavirus.
The demand for these solutions has been higher than we first anticipated and we're currently taking pre orders to ensure stock is allocated to achieve customer expectations.
Our AirKlean UVGI can be fitted on the wall or installed as a ceiling mounted 'plug & play' solution. Alternatively, our TechniKlean UVGI can be retrofitted within existing air handling units. These are specifically designed to disinfect air, and eliminate 99+% of airborne microbes such as viruses, bacteria, spores and moulds.
We are currently working in partnership with a number of NHS suppliers to provide solutions to disinfect hospital wards by installing our technology in the existing air handling units, and as stand-alone wall mounted solutions. Our solutions are not exclusive to the NHS and can be used in many environments including commercial buildings, office space, retail, lifts, water treatment and even food production facilities.
As a technology-led business with a key mission to create a cleaner, safer environment for all, we want to help prevent, control and kill Coronavirus with our UGVI solutions.
If you have any questions about our solutions please do not hesitate to contact us:
Stay safe
Steve Keogh CEO